We wish to begin this report of the trip to Nepal by thanking everyone for the prayers and support that keep us encouraged in this work and we thank the Lord in every way for providing His Spirit to guide us and His grace which sustains us.
The journey to Nepal was not out of the ordinary except both of us had not been feeling well at the beginning and this carried through with highs and lows throughout the time there. Our arrival was met with our brethren Parsuram and Sube there to greet us and help us to our hotel. Being exhausted as we were, after tea and some food and rest, we spent a night of deep sleep.
We will mention at least some of the people who primarily work with us often day after day and in that way, you will be acquainted with their names. Parsuram Sunchuri is our primary leader and translator, living in Kathmandu and preaching and teaching there as well as all the places we visited and more. His wife Geeta accompanies us and provides much needed support and encouragement to us and the brethren. Mencha is a preacher and farmer who travels throughout the hill region helping to establish and strengthen congregations. Sube Ghale is a farmer and preacher/leader in the village of Khatithok which is one of our primary focuses.
On Sat., Feb. 6th we met at our hotel room with Parsuram and Geeta to discuss the initial scheduling and begin sorting through the large amount of clothing and other things we took to Nepal for the aid to the village congregations. I believe I may have mentioned in last yearís report that we noticed in the villages a sore lack of warm sweatshirt type clothing and school supplies for the children of these places. Due to the generous help of many people including our son Joseph and his family, Janisí friends at her club in Oregon and going to many, many thrift stores, we collected nearly 200 pounds of clothing and supplies to distribute to these rural congregations. Many of these are in tribal areas where these folks are among the poorest in the nation from an economic standpoint. We put our heads together and sorted clothing, school supplies and small toys for 6 or more village areas, each one to be receiving a large bag to be given out on or after our visits there.
Our photos of Parsuram and his family did not turn out well last year so we wanted to show all of you their picture. They are blessed with a granddaughter 9 months old.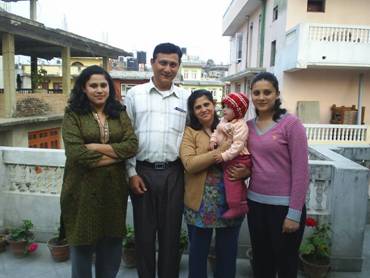 After picking up some bottled water we went to the first study/fellowship at a place called Gothathar, a section at the edge of Kathmandu. Our work last year finished at this place, a house congregation of about 15 members. Their worship meetings are held in the home of our new brother in Christ, Ke and his wife, Sister Santi. They meet in a bedroom about 8í x 10í in size. This group has had the joy of 3 coming to Christ including Ke since our studies with them last year. It was a joyous reacquainting and a good study with 13 in attendance. A good many of our studies in all the places this year were taken from Paulís letter to the Philippians concerning Christian attitude and Christian living. As this society is so predominantly Hindu, there were many references in our studies about putting away idols and worshipping the only living God. As is their custom, following the study we were served tea, garlic beans and roti, a flatbread. Their supply is meager but they are going eager and gracious.
Sunday, Feb 7th we traveled another direction from our hotel in KTM to another village area at the edge of the city called Goldunga. It is a poor area of farming and subsistence living. The congregation usually meets in a small mud house next to one of the chicken houses that the brethren here maintain for a supplement to their farming. This time we met in another, ďnewĒ house that Sube built for the times when he is down from Khatithok. Fifteen men of different congregations have pooled their resources and share duties of one month at a time working at this chicken farm. They raise about 1500 birds at a time, sell them and start again. Parsuram is pictured standing next to the house/meeting place as am I. It is mud caked over rough split bamboo and bamboo poles with a thatch and tarp roof about 12 x 8 in size. There were 20 people inside this little house for worship and study. We sat on the beds and floor for our time there. It is so remarkable to note the facilities in which so many of our brethren in these places meet to worship and are happy to be together to do so. I taught about 2 hours in this place.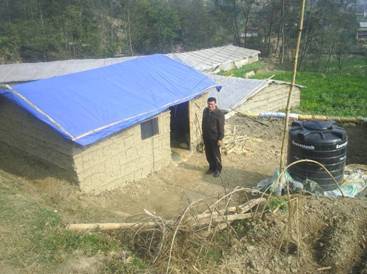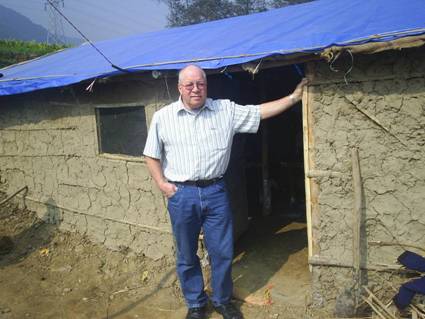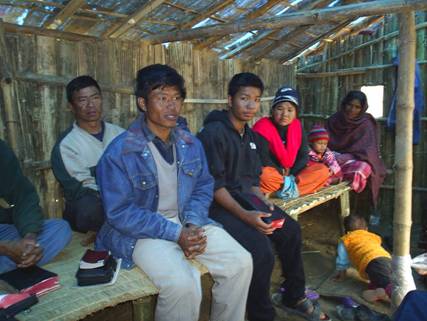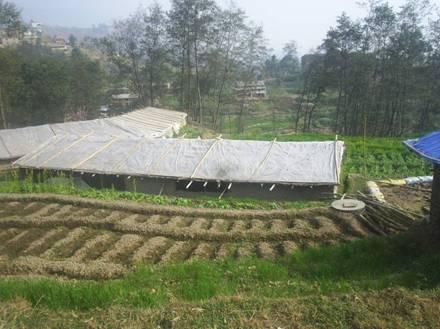 That evening we met for worship in Parsuramís home in the city. About 8 of us were there and we got to meet Prathna, the baby granddaughter. Her name means "prayer".
We left the next morning for a 10 day journey 140 to 200 miles from KTM to work with 6 villages, the leaders and in some the whole congregations. The area we went to is called Chitwan, for the warmer grassland/jungle type climate. As par for the course, we woke with no electricity because of the "load shedding" which happens 2-3 times daily for hours at a time. Getting all packed with little flashlights was a fun experience. Our wake up was 5:30 to board a bus at 7 am which left late, again the norm. It was a 6 Ĺ hour trip over some familiar road and some new to us. We stayed in a small town, Suraha at the edge of the Chitwan Natíl. Wildlife Preserve. It is a resort area and lots of tourists come here for jungle safaris and elephant rides and the like. The place is a nice looking resort hotel, though spare in amenities. There is no phone, no TV, one room for toilet, shower and sink; all together in a bit larger floor area without a tub. There was no power until 6 pm when a generator starts and runs until 10. It is clean and quiet though and really relaxing. We came into the little town to arrange for a car to take us to the outlying villages and saw elephants walking down the streets. WOW! There is a loafing shed housing three elephants right behind our hotel. This is a first. While arranging the car, Janis saw an elephant trainer/rider literally "park" his elephant to go into the store for a cold drink.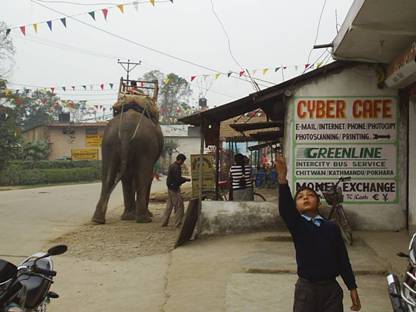 We walked around a little and saw the sights including an elephant breeding center being used to enhance the wild population for the preserve. The next morning we took our rented truck out of town and through the jungle and a riverbed to the village of Bhalumara. This congregation is 30-40 in size and 28 came to the studies since this is a working day, but by the time we near the end, 39 have come to study. This is a "new" building also, built about 2 weeks before. It was just poles and a thatch roof, but now they have added sheet metal and mud smeared board walls and a sheet metal roof. Fancy!
The floor is clay and it is about 15 x 10 and they are very proud of it. They bring mats from the beds in their homes to sit on for meeting, again resourcefulness that our US brethren could all learn from. It rained softly and then really hard for most of the time we were there. It got hard to speak over the rain hammering down on the roof, the water soaking through the walls and a leaky spot dripping cold rainwater down the back of my neck while I tried to teach and hold everyoneís attention. They were real cold also.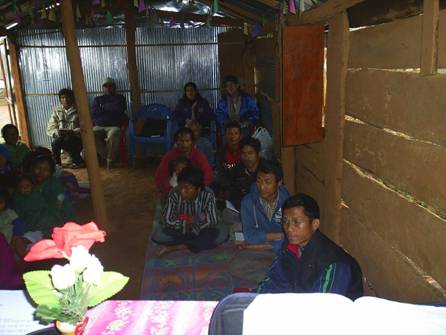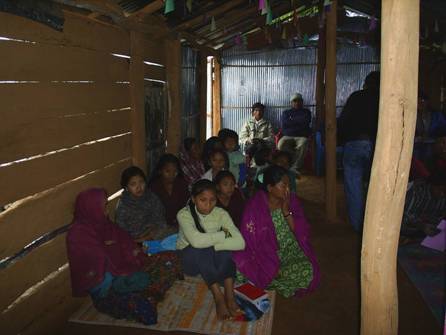 I taught all day, 6 hours or so, we played a little kick ball with the kids in the rain, gave clothing to the leaders to distribute and then they served us a meal. We ate boiled eggs, bananas picked right there, a rice-roti ring sort of thing served with spicy chic k peas. These are subsistence farmers who sell only very little of what they grow. From the photo of the outhouse area, you can see what they have to do to feed their livestock by climbing trees and cutting leaves and branches and going further back until the foliage grows back again.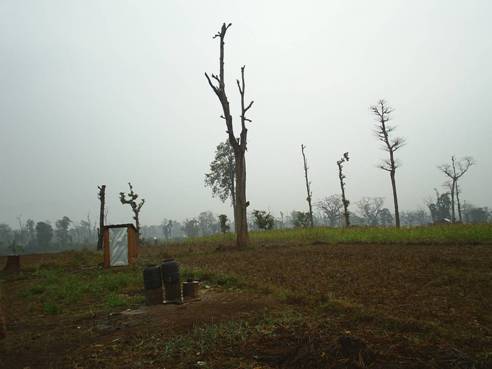 Our ride back to the hotel was wet and we brought 3 children part of the way and then picked up a young Korean missionary because he had no way back into town. Our hot water supply is by solar, sun supply and with the rain we didnít have hot water tonight and again no electricity. It is an adventure for sure. Somehow we had some hot water the next morning and got to freshen up a little better than the day before. After breakfast, we took the truck again for about 1Ĺ hours to the small town of Loth. We met in a rented room here with leaders and some women from 4 different villages. Silinge, Simalta, Kuchure and Kunkuri. About 25-30 came for this dayís studies and they had to start walking from their respective villages from 5 am and onward to get here. There are no vehicle roads to their villages. The room we met in was again a bedroom with 2 small beds for all to sit on. Our studies today were limited to about 4 hours to give these villagers time to walk back home for their chores. The dedication and commitment is a real eye opener for us and we hope for you.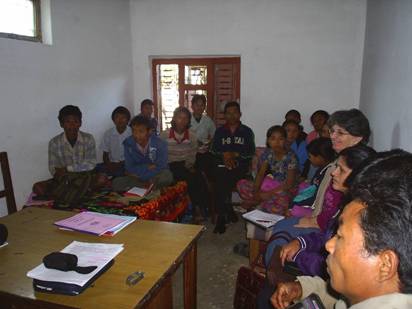 After giving the clothing and some toys for the leaders to handle, we fed them a "set Nepali" meal and bade them goodbye.
We took the next day off and did some sight seeing and relaxing a little. Janis hadnít been feeling very well and so it was difficult for her. But we did ride an elephant and saw some rhinos in the wild and monkeys and crocodiles, so we had a good time.
We left Chitwan the next morning by bus to the city of Dumre and later by truck to the village of Khatithok. This is the village we stayed 2 days in last year. This time we spent 3 days teaching, sharing, fellowshipping, eating together, sleeping together, singing and having a most wonderful time with these wonderful, loving brothers, sisters and children. Because of a Hindu festival where kids are honored and put up rope barriers to get treats from passersby that slowed traffic and lack of transportation to Khatithok our trip here was 7 hours instead of 3 so we were really beat when we got there. As soon as we unloaded, we were escorted to Bro. Mingmarís home where we sat on mats on the dirt floor and they fed us a dinner of a potato like root. It must be like a Jerusalem artichoke, large, long and really heavy. It tasted a lot like potatoes and was heavy on the stomach.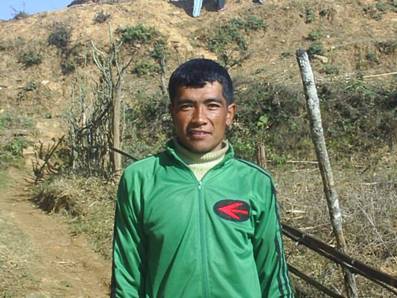 We again stayed in Subeís home for our lodging and ate most of our meals outside our room in the yard. We were met with lots of children and adults giving us their warm greetings and expressions of love that we came back to be with them again. Last year they were just a little wary and it must be unusual for foreign visitors to come and stay.
Our teaching lasted for about 8 hours in total today and with meals, fellowship and singing we were at the building or nearby for around 12 hours the 1st full day. We began with 75 present which was very impressive and ended with about 92 for the studies. This village has been asking for electricity to be brought in for 14 years and just last month the poles and wires were finally brought in and an electrician (of sorts) wired the church meeting place and some homes. Electricity means just 1 light bulb per room in a house and 4 in the church building. There are no appliances of any kind and water is brought from a well Ĺ mile below the village by cans hauled in baskets. Children from 5 years old to adulthood do these chores. We ate with all the people for lunch even though they wanted us to have better accommodations. The meals are served cafeteria style with everyone waiting to wash, get their plate, go through the line getting food and then washing the plates when finished. For the first time we ate with our hands as they do. Of course they thought it was amusing. They cook up 35 lbs. of rice at a time in large pots over an open fire, and also potatoes and cauliflower, dhal, chicken pieces, mutton pieces and a cabbage slaw of sorts.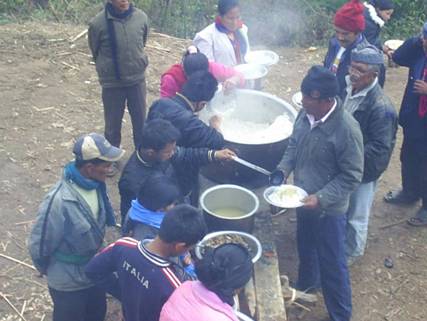 To hand out the toys to the kids during the lunch break, I arranged a Bible quiz for them and we all had a good time with that. They enjoyed the little token toys a great deal and we also brought to regulation soccer balls with us which they really loved as these things just donít come to them up here. After I finished the lessons around 5 pm, a young man got up and explained again a lot of what I taught in the Tamang language for those older folks who donít understand Nepali as well as their heart language. The Tamang people are noted as the poorest of the poor and come from the high Himalayas and live their lives in farming and menial labor. But they are very rich in compassion and hospitality!
Sunday morning there were nearly 150 present for the lessons, which again lasted all day from 9 am until 5 in the evening. Then they again sing, the youth especially every chance they get. Their fellowship and togetherness is amazing and wonderful to witness.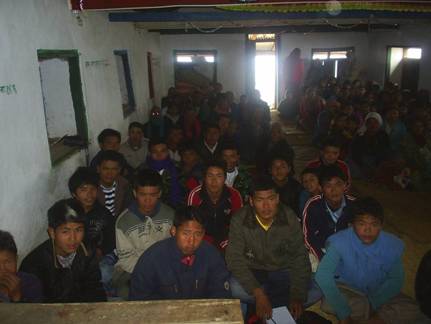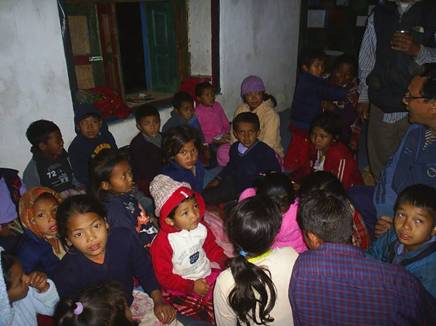 During the lunch break, Janis and I walked over the hill from the meeting place to get a better view of the Himalayan mountain range. It is beautiful by any standard. Also, below us were several villages scattered in the valley for miles, which the brethren tell us are their areas they are reaching into for evangelism. It is such a plentiful harvest field.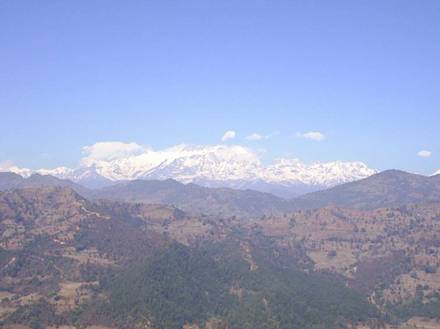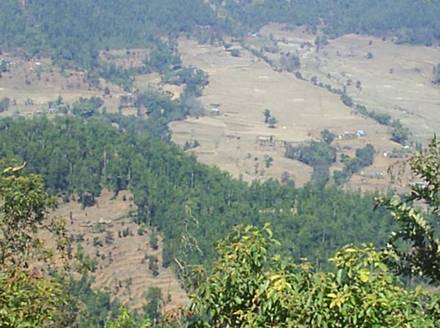 At the end of the study, to express our love and devotion for these brethren, we handed out little chocolates to everyone present as our example of Valentine Day. They were ecstatic to get chocolate! We visited with the elder members, several of the older women and everyone we could. The congregation leaders make a lot of expressive motions and explanations as they go over the examples and illustrations I used in the lessons. The lessons hit home and make meaningful use in their Christian lives. We believe they have shown to be effective. From our time and teaching last January up to now, 12 people have been baptized in this congregation and the one that meets down the mountain at Menchaís home congregation. With those in Gothathar, that is 15 souls that have put Jesus on as Lord since we were here last. God has the glory, He gives the increase.
The next day was our departure to go to the Pokhara area to teach and fellowship for 2 more days before going back to KTM. I stopped in at Subeís kitchen to watch one of his family grinding corn for the cattle feed. It is ground between the stones, then soaked in hot water, cooled and then fed so the cattle digest it easier. Do I look big by comparison?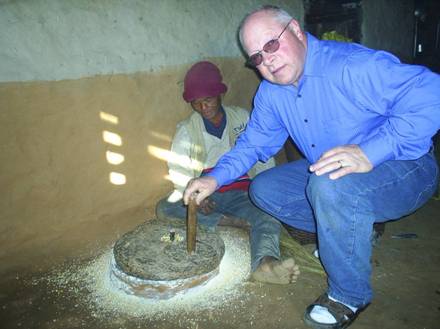 It is hard to say good bye once again. The villagers are so much closer to us than our first visit and the children cling not wanting us to leave. We took a photo with Subeís family just before we loaded up to go down to Menchaís place.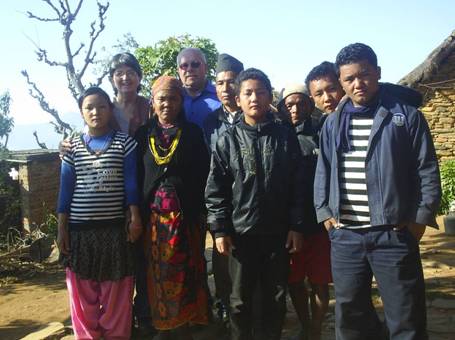 After a 25 minute walk back uphill, we arrived at Menchaís home where he lives with his wife and children, his sister and family and with his parents. He also serves a house congregation here in his home. This is where 2 of the new converts worship with them. He is such a dedicated man, taking so much responsibility and shouldering it all honorably. Three of his children are severely handicapped and they all do the best they can. He has been preaching up in these areas and planting churches for 15 or more years and has not received or asked for compensation as a preacher. In addition to this he farms and does his share at the chicken farm in Goldunga as I mentioned earlier.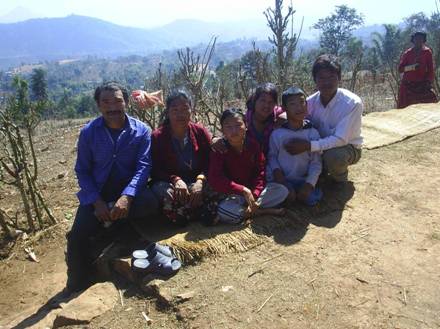 The bus trip to Pokhara was longer than we thought and kind of scary. The driver barely stopped as more and more passengers boarded all along the way until the bus was packed tight like a can of sardines. By the end of the trip, the aisle way was even full with people standing including women as there were no seats left. Several "young" men had seats but would not give them up for the women, even elderly women. This is an example of the insidious selfish nature of Hindu culture. I gave my seat up about 15 miles out of town to give one woman a break.
Pokhara is another resort tourist city lying at the foot of some of the most beautiful Himalayan Mountains in the range. It is a popular spot for those who like to go hang-gliding and boating and a host of other activities. So, it is a rich spot for evangelism also. A congregation had been started here some time ago, but because the preacher here turned out to be false and self centered in his motivations, the congregation fell apart and none are left. Parsuram is going to try a very concerted effort to begin the work here again and try to regain as much as possible what was lost. It is Nepalís 2nd largest city so there is lots of potential. We met up with Craig and Teresa Phillips, missionaries who have been working in Mumbai, India. Craig has been working there for 15 years, has helped establish dozens of congregations and has been a great workforce for the kingdom. He was beaten and expelled 5 years ago, but his visa was renewed. They have a registered business in Mumbai but have been stuck in Pokhara for 4 months because of another of many glitches in the Indian visa system. They have made several contacts here and showed us around and introduced us to several of those they have been trying to reach with the gospel.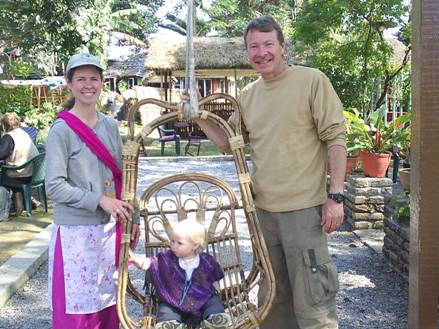 Parsuram had co written several gospel tracts into the Nepali language and brought about 1,000 copies to Craig whom he will pass around while he is here and as opportunity allows. We took a copy of each back with us to hopefully pass out to Nepali's living in the Twin Falls area. We spent the entire day meeting with these contacts of his, getting acquainted with them for hopefully the purpose of further study. Parsuram and I went out that evening to meet with two families who he is trying to encourage being the Lordís people. They presently are meeting with a charismatic denominational group and seem interested in further and deeper gospel study. We pray that Parsuram and Geeta can make good progress here and in the villages surrounding this rich area. They would like to move here to do this work if possible.
The next morning we were up again very early to get the bus back to KTM. What was supposed to be a 7 hour trip took 9 Ĺ hours because of a truck break down blocking the road just 8 or 9 miles out of the city. We sat in one place for nearly 2 hours! After hotel rooms with no hot water and limited power (which is everywhere) and hospital toilets with cockroaches it was nice to get back to a relatively nicer hotel. Hot water at least felt good.
We went the next morning to an area of Kathmandu called Gongabhu. It is very much an economically depressed area more so that several other parts of the city. It is very dirty and smells really bad. We met with Mencha, Sube and others we have studied with before on this trip and met with the congregation there for full day long studies. We began with 36 in attendance in a little rented hotel room. Everyone sat on the floor as is normal except for the speaking guests. We ended up with a total of 44 for the studies and they lasted all day, with a break for lunch. We all went together to 2 different hotel kitchens which were dingy and unpleasant but we did all right considering. The lady running this kitchen only had 6 plates and 4 spoons so she had to keep washing and refilling plates as people finished but she was very happy for the business.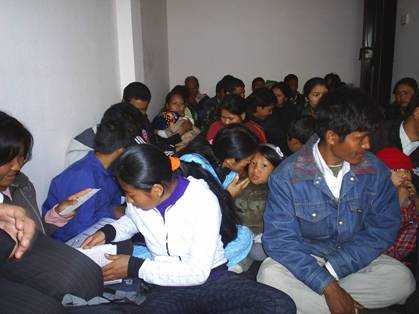 The fellowship following the teaching was again a fantastic example of Christian love and concern. Everyone stayed in that little meeting room and the brethren brought tea around for everyone. As that werenít enough, then they brought cooked dry beans in a large plastic bucket so everyone could have something to eat before they headed out for their homes? Many of them had to walk or ride busses for hours to be there and get back. They served it all in foil lined paper plates. I wasnít feeling good at all so I just had tea. After we left, we went to Parsuramís home for more tea and fellowship before retiring to our hotel for the night.
The next morning, the last Sunday we were in Nepal, we didnít have any meeting established for the morning. We did some reading, studying in the hotel and did some packing for the trip home on Wednesday. That afternoon, we went to another sisterís home for worship and study. Her name is Sunita. She is a wonderful, loving sister in Christ that has had a lot of hardship in her life. She opened up her home which is where the small congregation meets. We had 15 attending in her small living/bedroom area about 15 x 8. It was again a good study and we enjoyed tea afterward. Our ride back to the hotel in the taxi was a hair raiser as the driver was nuts, but we did get there without a wreck.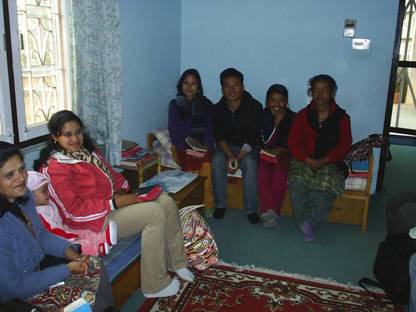 Monday and Tuesday we met with Parsuram and Mencha for business purposes and to plan as much as possible the work for the year from now until we return. We were able to provide some funds for those poorer rural congregations to purchase mats for their meeting places and some food provisions connected with our stays with them.
The potential is very great for Nepal. The village areas throughout the nation are largely untouched by evangelism. There are several cities with no congregations. Even in KTM and closely surrounding parts, the fields are white unto harvest. Parsuram prays for the opportunities to work these fields and we pray for this also. We pray that we can assist as the Lord provides us strength and resources.
We are again thankful to all of you for your prayers and your support and we pray you will be excited to continue to aid us in this wonderful outreach for His kingdom. Thank you Mike Brooks for your aid and grace in our time there as well. God bless you all.